To celebrate the publication of

Knot of Stone

,

we invite local friends on a w

alking tour

 of the 

Odilienberg

on Sunday 26 June.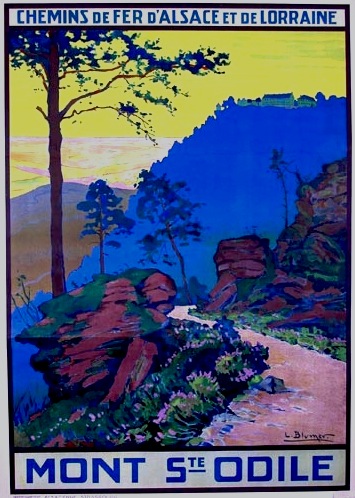 Walk in the footsteps of the book's two main characters, Sonja Haas and Jason Tomas, as they search for a long-lost Aristotelian manuscript in France (see under Synopsis/France). It is in the Vosges, on the Odilienberg itself, that they seek a woman supposedly killed for smuggling the text out of Catholic Spain, or so hearsay has it. And then there's the legend of five Knights from the court of Charlemagne, their Camel, and a Holy Blood relic from Jerusalem.
Intrigued? If so, join us on Sunday as we unravel the origins of the Romanesque carvings and crypt in Andlau, its sacred spring, and the mountain-top sanctuary of Le Mont Sainte-Odile. We shall then descend via the ruins of the Abbaye de Niedermunster and its adjoining Saint-Nicolas Chapelle  (the camel may have gone, but the folklore lingers on). From there we'll drive on to Obernai, birthplace of Odilia, for traditional Alsatian lunch. Please contact me at unravelling@knotofstone.com if you need practical information. Private transport essential, sensible shoes optional.
Le Mont Sainte-Odile in winter, with the lights of Strasbourg on the horizon.  Photograph by Jean Isenmann.
Le Mont Sainte-Odile (founded c.690) is a medieval mountain sanctuary that served as an independent centre of learning for nuns, including women of nobility, until fire destroyed the monastery (1546) and its hospice (1572). Hearsay has it that a visiting woman was murdered in the hospice crypt (also known as the Niedermünster) for her part in smuggling an Aristotelian manuscript out of Spain. Like those who conspired to kill Francisco d'Almeida, her assassins shared an allegiance to the Knights of Santiago de Compostela, the same fraternity by which he first obtained this manuscript. These two murders—one at the Cape of Good Hope, the other in Alsace—bind the narrative behind Knot of Stone.
Ruins of Abbaye de Niedermunster. The crypt has long since disappeared. Photograph by Martine and Ralph.
An artist's impression of the '

Way of the Camel'

. The legend is shown in three episodes with 

Le Mont Sainte-Odile

 (centre, atop the mountain) and the

 Abbaye de Niedermünster 

(to the far left). Note the depiction of romantised chevaliers instead of knights. Click to view the painting under a magnifying glass.

 
Nicolaas Vergunst