Following in the wake of Heritage Day—when freedom-seeking exiles and heroes of the liberation struggle were given precedence over peacemakers—Chris Thurman reviews A Living Man from Africa.
With his usual splendid skill, Thurman (BusinessDay, 4 October) draws our attention to one of the neglected "freedom fighters" of South Africa's long and troubled history: Jan Tzatzoe was a brilliant intermediary between Xhosa chieftains and British colonial forces and sought both peace and prosperity during a period of tumultuous change on the world stage. Levine's book is worth reading for its finely-crafted historical narrative, yes certainly, but it seems all the more pertinent when set against the current political stage in South Africa—where China takes a leading role and the Dalai Lama gets relegated to the dressing room. Today, however,  I wish to use this blog to remark on the neglected tradition between our leadership and their ancestors.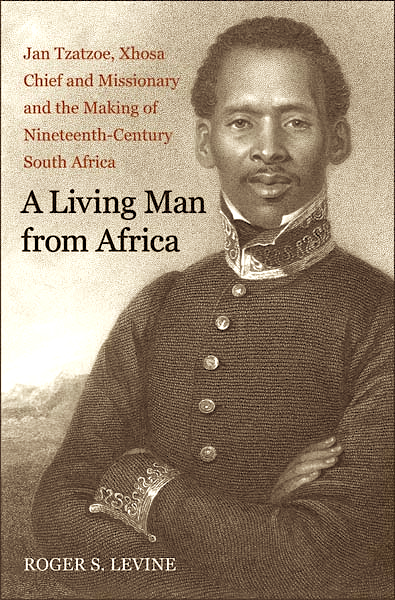 Across our continent, from the Eastern Cape to West Africa, the man closest to the ancestors is the chief or family head who, in turn, lends his leadership to their work among the living. As a son of the amaNtinde royal household, Tzatzoe (1792–1868) was aware of this traditional role and, despite his own conversion to Christianity, knew that men lived closer to the ancestors than to the all-powerful god—albeit Thixo or Jehovah. Moreover, he knew the ancestors would only be reborn if the living remembered them. Describing himself as "a living man from Africa" Tzatzoe not only challenges Eurocentric perceptions of a static culture but presents his people as those who will see justice done in future—whether it be generations later or in another country—just as we've seen Mandela, Tutu and Steve Biko do in their time. Today's leadership will have to reckon with this too.
As discussed in the Heritage Day post below (Dalai Lama: new visas and past lives, 25 September), we are dynamically linked to our ancestors through birth, death and the life to which we all shall return. According to traditional Bantu belief, the ancestors can return to incarnate through their descendants. A living man may thus be related to those who have gone before and to those not yet born to his family. Karmically speaking, this eternal recurrence has both personal and political significance for us all—for men like Jacob Zuma as much as for myself.
As a narrative, Roger Levine's  A Living Man from Africa is itself an act of memory. Herein Levine shows not only how Tzatzoe struggled with his own disparate beliefs but, simultaneously, tried to merge different cultures on the frontiers of history. In doing so Levine, like Tzatzoe before him, positions Africans as agents of cultural and intellectual change in our world. In turn, let us not only remember our ancestors or forefathers, but also honour and praise them for their guidence and protection.
Nicolaas Vergunst